Adventures Of Pepper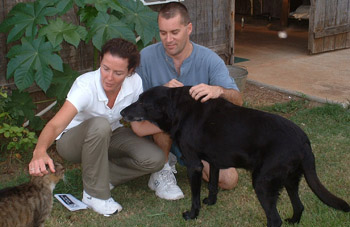 The following letters were written by "Pepper", an elderly black lab who came to visit us under quite unusual circumstances.
It all started one day late in June when we received a call to keep a dog for the day. Our visitors arrived and told us the funny
story of how Pepper stowed away in the baggage compartment of their bus as they left from Lakeland Florida. Boy were they
and Pepper surprised when they arrived at the Jameson Inn in Perry, GA. After inspection and approval of our facility by Pepper
and his owners, he stayed several days at Camp SitStay. Read and enjoy his account of the adventure and the trip back home.





Dear Friends and Family, Uncle James is sooooooo...... nice. He surprised me with a trip to Camp Sit and Stay in Perry, Georgia. I didn't even know I was going until the bus pulled out of the farm. I was so excited!!!! Anyway, had I known I was going to such a nice camp, I would have taken a bath and put on a collar before we left home. Our first night we spent in the Jameson Inn in Perry. Camp check in was on Sunday morning. I had a can of Alpo for dinner and bunked up with Aunt Lisa. My first night in a hotel with a girl. My first night in a hotel period!!! We got up bright and early Sunday so I could take a Clairol Herbal Essence bath. I sure hope there are some cute girls in my cabin at camp. I rode "shotgun" with Uncle James over to the camp. We toured the entire facility, wading pool, play area, cabins, mess hall, and latrine so I could pick out my cabin. I went for the quiet cabin with a couple of HOT Cocker Spaniels ( I think she really likes me). Ann, the camp counselor, checked me in, the family waved goodbye and I settled in to get to know everyone. This is going to be so much fun!! Hope I get to come again next summer!!! If I get homesick, Aunt Lisa said to call Daddy Marty and he would be happy to come pick me up early. I will see everyone on Friday. The family is picking me up on Thursday sometime. Tell everyone hello (and tell Smokey if he is good he might get to come with me next year). Love & licks, Pepper


Anne & Andy, Thank you very much for a wonderful time ! I'm going to ride all the way home in Uncle John's lap!! He loves me soooooo much!!!! I can't wait to get back to Lakeland & tell everyone about my adventure! I loved spending a week at your camp, but today in the Day Spa was the BOMB!! I feel so relaxed & my coat is so shiny & silky smooth!! I hope Aunt Lisa treats me this good of me EVERY day!! I know she will! I felt so frisky that I ran and played all the way to the bus! Take care until next year. I'm going to bring Smokey with me. He's going to have so much fun! I can't wait to show him my picture on your website! He'll be so jealous! See you soon! Love & Licks, Pepper See my pics soon at: http://www.campsitstay.com


Well Sports fans, I'm beginning to not like this bus-camp-trip stuff. Last night we were riding along fat, dumb, & happy when we broke something on the tag axle. After trying unsuccessfully to get it fixed at a truck stop, we all just curled up on the bus & went to sleep. I curled up with uncle John. He sure is comfy to snuggle up to. Uncle James is so frustrated he's just going to get in Alicia's truck & go to some place called Misery. Or is it Missouri? Right now being stuck on the bus, I'm not sure what the difference is. Anyway, we're working on getting it fixed this morning after breakfast. The gang had supper last night about midnight with a waitress in the truckstop named Mapoo. She was back this morning. They said they're not sure if she had bathed... Boy these roadtrips sure are fun." I told Uncle James to let me know if I can do anything to help. Hopefully we'll be home by the middle of the month. See ya sooner or later... Pepper


We finally made it home! What a trip, though. After the night in the truck stop I moved to the back of the bus. Too much traffic in my spot by the front door. Aunt Lisa thinks I was trying to find another way out. She's onto something but I'm not going to let her know that. Then I started smelling smoke coming up through the floor. This can't be good. It finally stopped just before we got moving again...for a few minutes. Anyway, after another day of bussing & Durango riding (don't ask...), we finally got home late Friday night. I sure was glad to see Smokey. I stayed up all night telling him about my trip. I wasn't really staying up just to talk to Smokey. I was waiting on Daddy Marty to let me in the house. I guess he forgot... On Saturday everyone was talking about the big party on Sunday. I couldn't believe it!! They're throwing me a "welcome home" party! They are just too sweet! The party started out really awesome! I could smell barbeque all day long! The samples I had were great! What I still don't understand is all the "fireworks" at the end of the evening. Fireworks are kinda loud & Smokey got real scared. He's not brave like me. He looked at me & said "We gotta get outta here! Let's go hide in the bus!" Didn't he listen to a thing I told him the other night? Either way, the bus is now in Fort Valley, GA (I told you not to ask!) so Smokey & I went & spent the night in the horse barn. I got no use for that bus, and I guess these people have shorter memories than I do. Fireworks at my welcome home party? What are they thinking? Love & licks, Pepper PS-Uncle John calls our bus the "SS Minnow". I'm not sure what he means by that, but he keeps saying "If not for the courage of the fearless crew, the Minnow would be lost..." I think I'm going to move over to John & Amy's. As much as he loves me, maybe they'll let me in the house at night since Daddy Marty keeps forgetting. If not, maybe I'll call Anne. She knows how to treat an old pup...



Camp SitStay would like to thank Lisa, Scott and Pepper for the entertaining account of Pepper's adventure. We hope he has many, many more happy and adventurious years ahead.