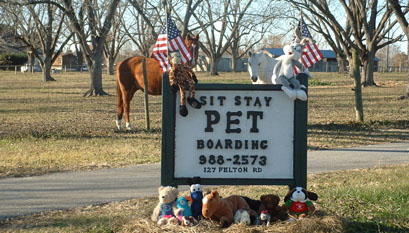 ---
Welcome to Camp SitStay Kennel and Pet Boarding!



Aggressive Dog Policy: Click for VERY IMPORTANT policy information!

Better Pet Boarding: Click here to see why we think we're better!

Make Your Pet's Boarding and Grooming Reservations: Click here to request reservations online!If you do not receive a reply within 24 hours PLEASE call! Some of your requests are not getting through.

Doggie Hours Click here for our hours of operation!

You can now find us on facebook. We are now uploading your pet photos to our Camp Sit Stay facebook page. Come see us and don't forget to "like" us. Welcome to Camp SitStay! Our boarding facility is located on a beautiful 15 acre tract of land just south of Perry Ga. Our location offers easy access if you are on your way to Florida from Warner Robins, Macon, Bonaire, Kathleen or Byron as we are just off of I-75. We offer spacious runs, double fenced turn outs and kennel areas, reasonable prices, flexible schedules, and true companion care for your pet. We cater to all sorts of boarding situations and generally have kennels available for doggie daycare. Camp SitStay is owned and operated by me, Anne Hjort. I have been involved in the dog business for over 20 years. I have worked with veterinarians for most of my life as a technician or an assistant. I have raised, trained, shown and loved animals since I was a kid. Camp SitStay is located on my home property which allows close supervision of the pets in my care. We have monitors in boarding areas which allow us to check on your pet 24 hours a day. I have a good relationship with the veterinarians in this area if any problems should arise while your pet is boarded. I DO NOT believe that an animal should be boarded in a cage or crate. Please refer to my Rate and Gallery page for views of pet boarding areas and turnouts. Camp SitStay specializes in the care of pets that are family members. Visitors are welcome anytime by appointment and references are available.


---

About Tyler's Place, Macon Dog Park!


Pepper
Click on the picture above to read the letters Pepper wrote
about his visit to Camp SitStay and his travel back home.


God Bless America

Visitors since 1/27/09
Camp Sitstay! Kennel and Pet Boarding Middle Georgia!
Camp Sitstay! Serving Warner Robins. We are near RAFB(Robins Air Force Base)!
Camp Sitstay! Kennel in Middle Ga. Near WRALC!
Camp Sitstay! Dog and Cat Boarding Near the Georgia National Fairgrounds Offering Military Discounts!
Camp Sitstay! Kennel and pet Boarding Near Centerville, Ga.!
Camp Sitstay! Dog and Cat Boarding Near the Perry Ag Center!Byron Georgia too.
Our Site Map