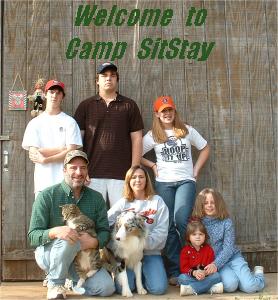 ---

Welcome to Camp SitStay
Kennel and Pet Boading!
Coming to the Ag Center?
Check us out!




Check out our facility with our website and next time you come to the Perry Ag Center for an event bring your pets with you. We have a wonderful facility and we are only 5 minutes from the Ag center. So if you are coming to the Ag center and looking for a Kennel, check us out. We offer long term and military discounts.


Welcome to Camp SitStay Pet Boarding. Our boarding facility is located on a beautiful 15 acre tract of land just south of Perry Ga. Our location offers easy access if you are on you way to Florida from Warner Robins or Macon as we are just off of I-75. We offer spacious runs, double fenced turn outs and kennel areas, reasonable prices, flexible schedules, and true companion care for your pet. Camp SitStay is owned and operated by me, Anne Lanier. I have been involved in the dog business for 20 years. I have worked with veterinarians for most of my life as a tech or an assistant. I have raised, trained, shown and loved animals since I was a kid. Camp SitStay is located on my home property which allows close supervision of the animals in my care. I have a good relationship with the veterinarians in this area if any problems should arise while your animal is boarded. I DO NOT believe that an animal should be boarded in a cage or crate. Please refer to my Rate and Gallery page for views of boarding areas and turnouts. Camp SitStay specializes in the care of pets that are family members. Visitors are welcome anytime and references are available.




God Bless America
We'd love to hear from you!
Send Comments on our website to our
webmaster.
To Our Main Site!